Update: January 28, 2022
Theophany Media's Creatively Christian Podcast just celebrated its 1st birthday, and we celebrated by joining our team of hosts together for a LIVE Q&A episode. It was a lot of fun, and we dug into some great conversation. 
I will be archiving my hosted podcast episodes from 2021, but for now, they are all still on the ready through the Podcast link here on the website.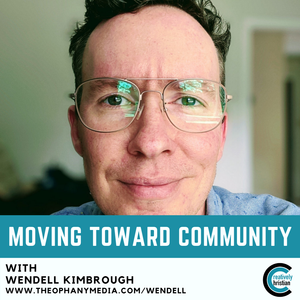 My latest conversation was with songwriter, Wendell Kimbrough. He is a Psalms settings specialist, so our church family has sung some of his music. And...let me just say...he TOTALLY reminds me of our worship pastor, Joel. It is kind of interesting how similar they are! I enjoyed our conversation so much, especially what he said about "moving toward community" in our creative work. That encouraged me a lot, and spurred me on to continue in the work God has called me to, right here in south central Alaska.
Future episodes from me include a conversation with Allen C. Paul, creator of the God and Gig's Community, and New Zealand musician, Delwyn McKenzie. This podcasting gig sure feeds my need for conversation and connection! Want me to interview someone on the show? Toss some ideas my way!!