This crowd-pleasing quick recipe is a GO-TO on busy weeknights. I work to have these ingredients on hand regularly, so it even passes as a "plan B" option if I'm running short on time.
---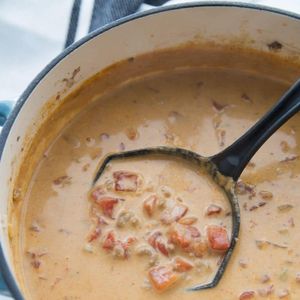 Creamy Moose Taco Soup (click HERE for a printable version)
2 lbs ground moose meat (or beef will do if hunting season was terrible...or didn't happen)
2 cans Rotel
2-8oz blocks cream cheese
4 T taco seasoning (I make my own, and would be happy to share its contents...just ask)
4 cups Homemade Bone Broth
---
Brown your ground moose meat in a large soup pot. Drain off excess fat if too greasy (nice moose or beef shouldn't need it). Add the rest of the ingredients to the meat in the pot, and bring to a boil, mixing and melting the cheese. Reduce to a low simmer and stir occasionally until ready to serve.
This can be made in the crock pot too, just brown the meat first.  AND, I'm sure there is an Instant Pot away too ;)
My family highly recommends enjoying this with tortilla chips nearby. Enjoy! And let me know if you make this!!