Update: December 12, 2022 
The Creatively Christian Podcast continues to be a blessing in my life, in that I get to have encouraging conversations with amazing creative people from every corner of the world!

Here is a summary of my latest episodes: 
Author Luke Aylen graced us with inspiring stories of how God called him into writing. He also read from one of his books at the end of the episode…leaving me wanting to revisit his lovely stories.

Aaron Everitt and I chatted about the creativity of business, and enjoyed marveling at the gift it is to serve one another through our creative work…echoing the act of service of God Himself.  

My latest conversation was with author Mesu Andrews. I loved getting to know Mesu and hear how God called her into writing…a journey of hardship that I'm still marveled by. 
Upcoming episodes are with author Allen Arnold (amazingly encouraging man), drama teacher and songwriter Gersom de Koning (from Thailand), the talented singer/songwriter Katy Weirich, author Anneli Wahlstad (from Sweden), and author/podcaster Brian Sexton. Whew! Love this line up of amazing people!!
Click this link to my podcast website to get connect with these conversations and more, and I pray you feel inspired and encouraged in your creative work through listening in!
---
Update: September 9, 2022
I continue to enjoy this "little" side project, and have had some amazing conversations since my last update. Here is a link to all of the conversations I've had, and here are some highlights from my recent episdoes: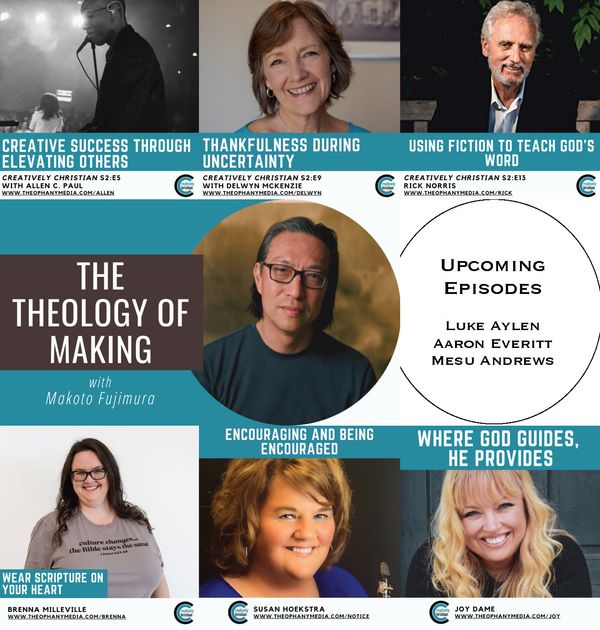 Allen C Paul (Jazz Musician and Podcaster, Florida): we chatted about encouraging and serving others through our creative pursuits.
Delwyn McKenzie (Composer and Music Teacher, New Zealand): we talked about her journey of faith and creativity while following God's lead through uncertain times. 
Rick Norris (Composer and Author, California): we chatted about his speculative Christian fantasy book series that incorporates music and art into his storytelling process.
Makoto Fujimura (Artist and Author of "Art + Faith: A Theology of Making"): we talked about the opportunity we have to honor our brokenness through our making...this conversation was pure gold.
Brenna Milleville (Creator of Elly & Grace, a Christian Apparel Company): this was a fun conversation about how she was called into her work, and how God has grown her confidence.
Susan Hoekstra (Musician, Author, and Podcast Host, Michigan): we got to chat about the differences between validation and affirmation, the gift of collaboration, and how judgement can affect our creative work.
Joy Dame (Singer/Songwriter, Florida): my co-writing friend, Joy, and I got to talk about how God has opened doors through collaboration.
Coming up next are conversations with UK fantasy fiction author, Luke Aylen, creative encourager, Aaron Everitt, and Old Testament Christian Fiction author, Mesu Andrews.
Be sure to subscribe to wherever you enjoy podcasts, and your reviews would help us spread the word on this amazing show!
---
Update: January 28, 2022
Theophany Media's Creatively Christian Podcast just celebrated its 1st birthday, and we celebrated by joining our team of hosts together for a LIVE Q&A episode. It was a lot of fun, and we dug into some great conversation. 
I will be archiving my hosted podcast episodes from 2021, but for now, they are all still on the ready through the Podcast link here on the website.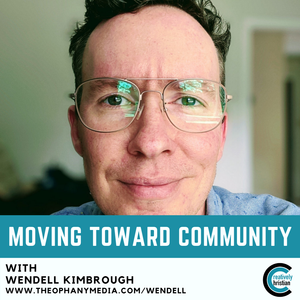 My latest conversation was with songwriter, Wendell Kimbrough. He is a Psalms settings specialist, so our church family has sung some of his music. And...let me just say...he TOTALLY reminds me of our worship pastor, Joel. It is kind of interesting how similar they are! I enjoyed our conversation so much, especially what he said about "moving toward community" in our creative work. That encouraged me a lot, and spurred me on to continue in the work God has called me to, right here in south central Alaska.
Future episodes from me include a conversation with Allen C. Paul, creator of the God and Gig's Community, and New Zealand musician, Delwyn McKenzie. This podcasting gig sure feeds my need for conversation and connection! Want me to interview someone on the show? Toss some ideas my way!!